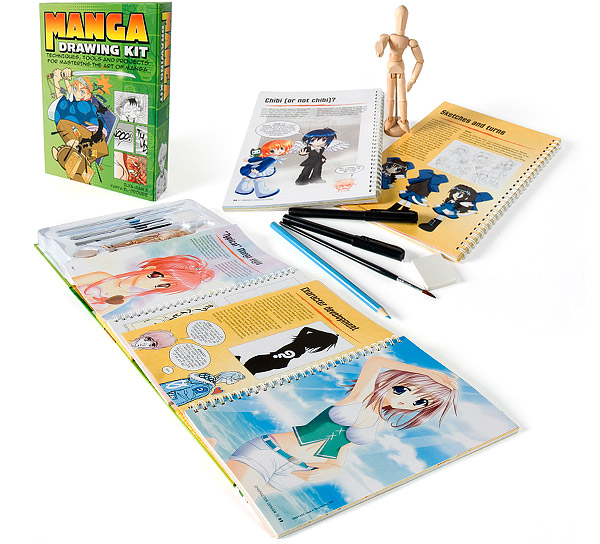 Manga Drawing Kit

Published: 9th November, 2005

By Ilya-San and Yahya El-Droubie



"Inside the Manga Drawing Kit you will find everything you need to start exploring the art of comic book storytelling in a Manga style. Two colorful and exciting books and a starter kit of essential materials provide you with a complete guide to this immensely popular Japanese art form. The Set contains everything you need to start drawing Manga: nonrepro blue pencil, brush, two black art pens, eraser, and a fully poseable figurine. The Techniques Book shows you all the skills you need to get started, with reference to a wide range of authentic examples. It covers everything from the main stylistic features of Manga to specific subjects such as drawing the figure in motion and creating Manga characters. The Projects Book leads you through a series of practical exercises. It is a step-by-step guide to character design, storytelling, page layout, working in black and white and in color, and much more. A series of projects helps you master the basics before developing your skills further in the creation of your own Manga. The Manga Drawing Kit contains all you need and all you need to know in one handy pack. Open it up, pick up a pencil, mark your pages, and begin exploring the art of Manga right away".

ISBN-10: 1592235115
ISBN-13: 978-1592235117

Manga Drawing Kit features many of my illustrations as examples.