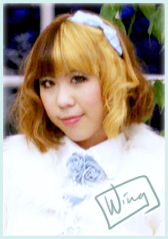 Name Wing Yun Man
Location London, UK
Ethnicity British Born Chinese
Languages English (Native), Cantonese Chinese (Fluent), Japanese (Intermediate), French (Beginner), Mandarin Chinese (Beginner)
Skills Illustration, Character Design, Concept Art, Print Design, Graphic Design, Branding, Sequential Art, Basic HTML
Software Adobe CS (Photoshop, Illustrator, InDesign, Dreamweaver), Microsoft Office (Word, Excel, Powerpoint)
Interests Sushi, Japan, Shopping, Fashion, Beauty, Video Games
Quote "Keep Calm Carry On And Let Them Eat Cake"
E-mail wing [at] ciel-art.com
Follow Me!
About The Artist
I am a London-based freelance graphic designer & illustrator specialising in anime/manga style illustration, character design, sequential art and graphic design with years of self-taught skills and experience. A deep interest in animation and art at a very early age resulted in an ongoing hobby of drawing which has developed into a professional career as my art continually progressed to a more advanced level over recent years.
Always striving to improve my work and expanding my range of skills, I keep myself occupied by working on all sorts of creative projects and experimenting with various types of media whenever I can.
My work has made appearances in various media including professional publications, small-press books, magazines, posters, flyers, corporate websites, merchandise, cosmetics and personal promotional material.

Software
Fully proficient with Adobe Photoshop, Illustrator, InDesign, Dreamweaver, Corel Painter, COMICWORKS, OpenCanvas, Paint Tool SAI, MS Office.
Notable Work
• Character design of "Coco", the monkey mascot of TokyoToys.
• Re-design of the logo, web design, graphic design and packaging design for Eyeko Beauty.
• Logo & character design of "Tobi" robot mascot, merchandise design, advertising for Toymation.
• Character design of "Miyuki" and "Hakubo" mascots, postcard/greeting card illustrations for Otaku News.

Clients
Eyeko Beauty, TokyoToys, Genki Gear, Toymation, Quarto Publishing, Future Publishing, Ilex Press, New Holland Publishers, Anness Publishing, Search Press, CHASE Animation and Otaku News amongst many others.
Awards
• 2008 - Winner of Orbital Manga's Haruhi Fan Art Competition (18th October 08)
• 2007 - Winner of Letraset's October / November Manga Hoshi Competition.
• 2007 - Winner of NEO Magazine's 2007 Manga Competition.
• 2004 - Winner of 'Best Kid's Comic' category at the International Manga & Anime Festival.
Ciel-Art.com launched on 12th October 2007.