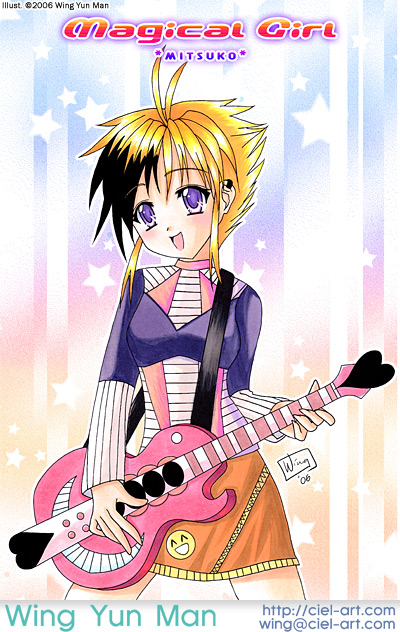 Magical Girl *Mitsuko*

Created: 16th November, 2006
Medium: Copic Sketch + Ciao, Neopiko, ProMarker, Adobe® Photoshop® CS2

Illust ©2006 Wing Yun Man.
Character Design © Selina Dean.



This is a colour version of the cover page I drew for my comic in the Sweatdrop Pink anthology, 'Magical Girl' (Story and character designs by Selina Dean).

It's my 3rd real attempt at using markers. When I only had a few limited Letraset colours my marker colouring was very patchy and bled a lot, but since I've been practicing with Copics, the results have improved significantly. Although having said that, the colouring on Mitsuko's top went wrong as I didn't have the right shades, and just used whatever I had at the time.

Elements of the image such as the blush, background and title text were rendered by means of CG.