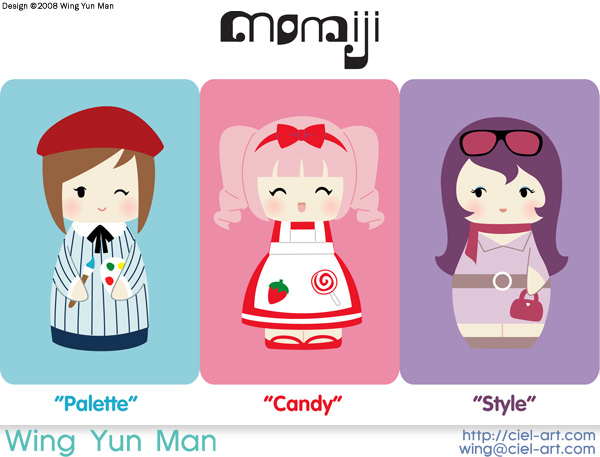 Momiji Doll Designs

Created: 10th March, 2008
Medium: Adobe® Illustrator® CS2

Design ©2008 Wing Yun Man



A set of three dolls designed to the theme of "Indulge", for the recent contest run by Momiji and Don't Panic. The top ten finalists were determined by online votes, and one winner chosen by a panel of judges. Sadly, I didn't win nor made it into top ten but I appreciate everyone who voted for me regardless!

The design sheets of each doll can be viewed on the Don't Panic website: My Momiji Doll Contest Designs

Palette is an enthusiastic painter who is passionate about art, enjoys drinking cappuccino and travelling around the world.

Candy adores sweets of all kinds - her favourite flavour is strawberry. She loves cute fluffy animals and playing with dolls.

Style loves shopping, she's a fashionista who always looks her very best. She indulges in trendy and stylish clothing and likes to dine at expensive restaurants.